Other Things
Here is some of the other things that I have been working on.
Film & Video
One of my other interests is working in video creation. I've made a wide range of films - from stop-motion animation to live action and promotional films. More information about this can be found here.
'The Link' magazine-Halliwell Road Free Church
From November 2011 I have been the editor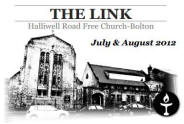 for Halliwell Road Free Church's monthly magazine-'The Link'. This task has ensured that I meet specific requirements from the target audience (such as content and design specifications such as readability). This task has also allowed me to learn to keep to strict deadlines- as if the magazine is not produced in time, it is not printed! Issues of 'The Link' are available as .pdf files on the Halliwell Road Free Church website.
Photography
Bellow are some examples of some photos that I have taken in my spare time!